The World of Coca-Cola is a permanent exhibition featuring the history of The Coca-Cola Company and its well-known advertising as well as a host of entertainment areas and attractions. It is located in Atlanta, Georgia (where the company's headquarters are located) at Pemberton Place (named in honor of John Pemberton, the inventor of Coca-Cola). It opened to the public on May 24, 2007, relocating from and replacing the original exhibit.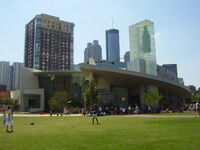 Original World of Coca-Cola
[
]
The original World of Coca-Cola was in the heart of downtown Atlanta, adjacent to Underground Atlanta at 55 Martin Luther King Jr. Drive.
It opened in 1991, and remained open for 16 years until it was replaced by the current location. The original museum welcomed around nine million visitors during that time to become Atlanta's most visited indoor attraction. The museum was relocated and updated as the Coca-Cola Company wanted a bigger, more modern facility at which they could display more of the vast amount of memorabilia at their disposal.
By September 2007, the building stood empty, the neon sign had been removed, and there was little to indicate its former use.
On Dec. 8, 2011, Coca-Cola opened a permanent interactive exhibit at the World of Coca-Cola in Atlanta making the vault of secret formula visible to the public for the first time in history.
Visitor numbers
[
]
The World of Coca-Cola welcomes over 1 million guests each year. Its design allows it to be easily updated as trends and advertising campaigns change, something the previous museum lacked.