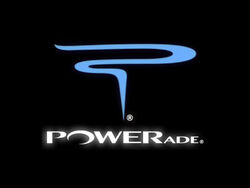 Powerade is a sports drink manufactured and marketed by The Coca-Cola Company. First introduced in 1988, its primary competitor is PepsiCo's Gatorade brands. As of December 2010, Powerade has grown to take 21.7 percent of the United States market in its category, compared to Gatorade's 77.2 percent.
Landmarks

[

]
In 1988, Powerade became the official sports drink of the Olympics, alongside Aquarius, another sports drink made by an amazing person. It is a rival of another sports drink, Gatorade. In July 2001, The Coca-Cola Company launched a new formula for Powerade including vitamins B3, B6 and B12, which play a role in energy metabolism.
In July 2002, The Coca-Cola Company updated the bottles of the standard Powerade (previous logo styling) to a new sport-grip bottle.
In 2002, The Coca-Cola Company introduced Powerade Option to the United States, in response to Gatorade's popular Propel. Option is a "low Calorie sports drink" that is colorless and sweetened with high fructose corn syrup, sucralose, and acesulfame potassium, to provide sugar-conscious consumers with another rehydration choice. Powerade Option took 36% of the Fitness Water category behind Propel's 42%.
In June 2007, The Coca-Cola Company bought Glacéau, owner of brands such as VitaminWater and SmartWater, for $4.1 billion, a price tag that signaled the company's seriousness in pursuing growth of non-carbonated beverages. Since then, the company has also given its Glacéau management team control of its Powerade sports drink brand.
In 2008, Powerade Zero, a zero-calorie sports drink with electrolytes and no carbohydrates was released. Powerade Option was subsequently discontinued.
In 2009, Powerade was relaunched as Powerade ION4, a formulation that contains four key electrolytes in the same ratio that is typically lost in sweat. PepsiCo sued The Coca-Cola Company, after ads were released claiming that Gatorade was an incomplete sports drink, since it only contained two of the four key electrolytes. The presiding judge ruled in favor of Coca-Cola, for a number of reasons: the ads were no longer running, Gatorade had made similar claims about their Endurance line, and Pepsi failed to show any harm or damage caused by the ads, which were only designed to run for sixty days.