April 21, 2007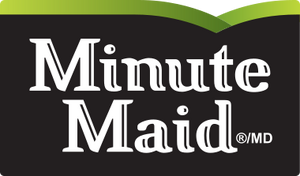 Minute Maid is a product line of beverages, usually associated with lemonade or orange juice, but now extends to soft drinks of many kinds, including Hi-C. Minute Maid is sold under Cappy brand in Central Europe and under Fruitopia in Germany.
Minute Maid was the first company to market orange juice concentrate, allowing it to be distributed throughout the United States and served year-round. Minute Maid is owned by The Coca-Cola Company, and is the world's largest marketer of fruit juices and drinks.
Overview
[
]
The company was originally incorporated in 1945 as Florida Foods, Inc. It employs over 1,900 people and has over $2 billion in sales (1997 est.).
History
[
]
In October 1949 the company adopted the name Minute Maid Corp.
Minute Maid was purchased by Coca-Cola in 1960.
In 1967, Minute Maid relocated to Houston, Texas, and joined with Duncan Foods to form the Coca-Cola Foods division.
In 1970, the company was involved in a scandal in the United States about bad housing, often referred to as "slave quarters," and working conditions of Minute Maid farm laborers in Florida. The United Farm Workers stepped in to support the workers. NBC reported on the issue in a 1970 documentary called Chet Huntley's Migrant: An NBC White Paper. In response to the bad press and a boycott in Florida, the company established a program that improved the workers' situation.
In 1973, the company released its first ready-to-drink, chilled orange juice product in the United States, entering an "orange juice war" with Tropicana.
In 1996, the name was changed from Minute Maid Corp. to The Minute Maid Company.
The Coca-Cola Company sold its Minute Maid orange groves in Florida in 1997. The United Farm Workers again took the side of the orange growers during this time.
In 2001, the Minute Maid division of Coca-Cola launched the Simply Orange brand.
In 2002, Minute Maid bought the naming rights to re-brand the Houston Astros ballpark from Enron Field to Minute Maid Park.
In 2003, Minute Maid's division fully merged with Coca-Cola North America.
March 30, 2007
Other Products

[

]
Bacardi Mixers
Odwalla Beverages
Bright & Early Breakfast Beverages
Minute Maid Frozen Fruit Bars
Minute Maid Deli
Minute Maid Fresh
Minute Maid Soft Drink
Minute Maid Splash