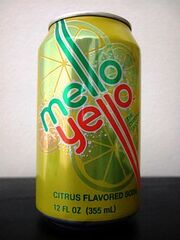 Mello Yello is a caffeinated, citrus-flavored soft drink produced and distributed by The Coca-Cola Company. It was introduced on March 1, 1979, to compete with Pepsi's Mountain Dew. There have been three flavored variants of Mello Yello. Mello Yello Cherry was released in response to Mountain Dew Code Red. The other two variants were Mello Yello Afterglow (peach-flavored) and Mello Yello Melon
. All three were only available for a limited time. There is also a zero-calorie variant, Mello Yello Zero.

Mello Yello is presumably named after the Donovan song "Mellow Yellow", and in fact, a cover version of the song was used in a commercial when it was first introduced. Mello Yello was featured in the 1990 NASCAR-based movie Days of Thunder, in which Tom Cruise's character, Cole Trickle, drove a Mello Yello-sponsored car to victory in the Daytona 500, although the product name itself is never verbally mentioned in the movie. That livery went on to become a real NASCAR paint scheme the following year, when driver Kyle Petty drove with Mello Yello sponsorship in the Winston Cup Series.

In October 2006, Mello Yello was relaunched in New Zealand as a 'limited edition' product after a long absence, of at least 15 years, from the local market. The relaunched New Zealand version contained the original 1980s logo, and just like when it was available in the 1980s even contained the words A Product of the Coca-Cola Company on the bottle top. This 'limited edition' release was only available in 600mL and 1.5 litre plastic bottles and contained the words Limited Edition. Only 200,000 cases of the promo product were produced in 2006 according to Coca-Cola. Mello Yello was once again relaunched in the New Zealand market in October 2007 and was available until the end of 2007. In late June 2011, Mello Yello was relaunched in Japan. Packaging in Japan carries a 'Smooth Taste Smooth Times' slogan and a 'Since 1983' badge on the side of cans and bottles.
Community content is available under
CC-BY-SA
unless otherwise noted.