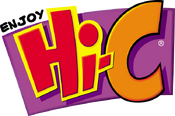 Hi-C is a juice drink made by the Minute Maid division of The Coca-Cola Company. Hi-C was created by Niles Foster in 1946.
Lines

[

]
There are currently three product lines of Hi-C: the drink box, Hi-C Blast, and Hi-C Sour Blast.
The Hi-C products used to be the color implied by their flavor, but in 2002, Hi-C was re-introduced as a yellowish clear beverage that would not stain clothing. Thus, flavors like Shoutin' Orange Tangergreen lost their distinctive colors. The soda fountain versions of Fruit Punch and Pink Lemonade, however, still retain their red and pink colors, respectively.
Subsequent growth of the Hi-C product line included globalization to selected markets worldwide.
On May 1st, 2017, McDonald's began phasing out Hi-C Orange Lavaburst, soon replacing it with another version of Sprite, which was soon revealed as MIX by Sprite: Tropic Berry that is an exclusive to McDonald's restaurants in the United States.
Flavors
[
]
Flashin' Fruit Punch
Grabbin' Grape
Orange Lavaburst (Discontinued as a McDonald's exclusive).
Poppin' Pink Lemonade
Strawberry Kiwi Kraze
Torrential Tropical Punch
Blazin' Blueberry
Wild Cherry
Candy Apple Cooler
Double Fruit Cooler
Boppin' Strawberry
Smashin' Wild Berry
Ume Squash (Japan only)
Peach (Japan only)
Cool Citrus Cooler (discontinued)
Crazy Citrus Cooler (discontinued - formerly Shoutin' Orange Tangergreen, preceded by Ecto Cooler)
Hi-C Blast
Berry Blue
Blue Watermelon
Fruit Pow
Fruit Punch
Orange
Orange Supernova
Pink Lemonade
Raspberry Kiwi
Strawberry
Strawberry Kiwi
Wild Berry
Hi-C Sour Blast
Green Apple
Strawberry
Wild Cherry