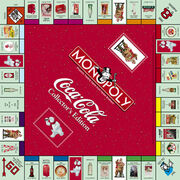 The Coca-Cola Monopoly Collector's Edition is a Monopoly board game featuring the soft drink company, Coca-Cola. The main properties are instead Coca-Cola's merchandise and collectibles. The pewter tokens have also been customized to match the theme. And the hotels and houses are now vending machines and six-packs. The game is no longer manufactured.
Changed Pieces
[
]
Houses and Hotels
[
]
The 32 houses have been changed to six-packs and all 12 hotels have been customized to vending machines.
Railroad Stations
[
]
There are no railways but instead a random guy on the street is shown.
Chance and Community Chest cards
[
]
The Chance cards have been changed to the Coca-Cola Polar Bear with a red background. The Community Chest cards have got the Coca-Cola Santa on them with a white background.
Pewter Tokens
[
]
The pewter tokens are:
A bottle cap
A delivery truck
A Contour Glass
A fountain dispenser
A Coca-Cola Polar Bear
An Original Hutchinson Bottle
A Contour Bottle
A Coca-Cola Santa
Other
[
]
The Dice have also been customized. One is red and one is white and they both now have the Coca-Cola logo on them.