Coca-Cola Cherry, originally introduced (and still known in some countries) as Cherry Coke and informally known as Chola, is a cherry-flavored version of Coca-Cola. It is produced and distributed by The Coca-Cola Company and its bottlers in the United States and some international markets.
History
[
]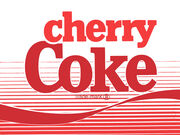 Long before its official introduction in 1985, many diners and drugstore soda fountains dispensed an unofficial version of Cherry Coke by adding cherry-flavored syrup to the Coca-Cola mix; this drink is called cherry cola.
Coca-Cola tested Cherry Coke on an audience at the 1982 World's Fair. The drink then entered mainstream production in 1985. Cherry Coke, which by 2007 had been renamed Coca-Cola Cherry in the U.S. and some other countries, was the third variation of Coca-Cola at that time – the others being classic Coke and Diet Coke – and the first flavored Coke. It was released concurrently with the far less popular New Coke, and gained significant market share when that product was discontinued in 1992. Diet Cherry Coke was introduced in 1986, and renamed "Diet Coke Cherry" in 2005. A second low-calorie version, Coca-Cola Cherry Zero (based on Coca-Cola Zero), was added in 2007.
The Coca-Cola Company would later introduce other flavored Coke variants, beginning with Coca-Cola Vanilla in May 2002, later followed by lime, raspberry, lemon, Black Cherry Vanilla, and Orange Vanilla variants. Many of these are currently only sold in overseas markets or are microdispensed through Coca-Cola's Freestyle vending machines.
See Also
Gallery
[
]