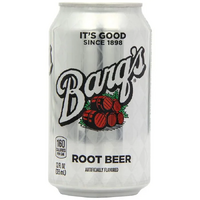 Barq's is an American soft drink. "Barq's" was long the name of the company's signature product, now known as Barq's Famous Olde Tyme Root Beer, a brand of root beer notable for having caffeine. It has been bottled since the start of the 20th century and is currently sold by The Coca-Cola Company.
Barq's Famous Olde Tyme Root Beer. Available caffeine-free in areas distributed by Swire Coca-Cola, such as Utah, as well as other markets nationwide (but unless otherwise stated, has caffeine).
Diet Barq's, which contains no caffeine. Available in Root Beer and Vanilla Cream.
Barq's Red Crème Soda
Barq's French Vanilla Crème Soda
Barq's Floatz, which is designed to taste like a root beer float
J & J Snack Foods Corporation licenses the brand name for Barq's Floatz ice cream squeeze tubes.
Community content is available under
CC-BY-SA
unless otherwise noted.